This content is more than 12 months old may contain outdated prices or other information. For latest pricing and availability, please
contact us
.
Well known writer and hotel enthusiast,  Adrian Mourby takes a weekend trip through Essex and Suffolk.
Neither of us were entirely confident about cycling 20 miles a day on roads we didn't know. On the other hand this was our chance to get to know Essex and Suffolk the best possible way. I've always thought touring by car is too quick – beautiful sights shoot just past before you have time to notice – and touring on foot is definitely too slow.  Bicycling seemed to be the perfect solution.  We'd exercise hard, eat well and lose some weight too.
We began with a night at Milsoms in Dedham Vale where our bikes had already been delivered by Gordon of the Outdoor Hire Centre. He'd also provided us with helmets, garish yellow high-viz vests  maps, panniers, and a puncture repair kit. Best of all we discovered that while we were battling through wind and rain every day Gordon would ferry our bags by car to the next hotel. I'd thought we'd have to stuff everything we needed for the trip into our panniers but no, providing we made it in one piece, every evening we'd have fresh and uncrumpled finery.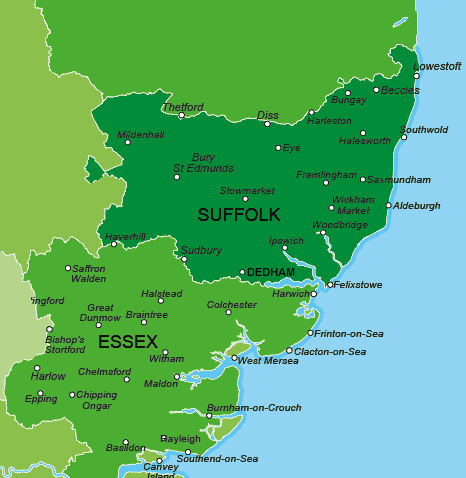 We dined well that night at Le Talbooth. Possibly a bit too well in fact. This lovely riverside restaurant is one of the most picturesque in Essex and I was in holiday mood. The poor barman admitted that he'd never mixed a dry martini before so we worked on it together and I ended up congratulating him on his first. As we were driven back to our hotel closer to midnight than I'd intended I got the feeling we wouldn't be setting off first thing the next day.
It was overcast as we checked the map over breakfast. The dining room at Milsoms in Dedham was very quiet given how very full the hotel had been last night. It's a likeable hotel full of design flourishes and surprises. You enter what looks like a Victorian rectory and then suddenly there is a huge bar with conservatory dining at the back. As we traced our route to the Essex coast between it did seem a very long way but at least it wasn't raining as it had on the drive down. I really tried not to eat too much. The full Essex breakfast on offer was packed with protein but I'd not spent all day in the saddle since an Italian trip some years ago, and we'd trained up for that.  Fortunately the hybrid bikes that had been left for us were fast and had good suspensions, much better than my bike at home. We fair shot out of the drive at Milsoms and took the Stratford Road towards Dedham. Of course we had to stop briefly at that lovely bench on the left that peers through the trees towards Dedham Vale -and admire the view- but then it was on to Dedham itself.
If you wanted to dispute the reputation of Essex in the British media, the high street in Dedham would be the image I'd choose. It looks like it's waiting for the BBC to turn up and film the next Jane Austen adaptation. As the ground was too wet for a proposed walk over to Flatford Mill we decided to stop and look at the parish church instead. Unfortunately when we pulled up Kate, my wife – on an unfamiliar bike – toppled over. Two Dedham ladies with their dogs stopped to ask if she were OK. It was not an auspicious start to our cycling weekend.
"At least you were wearing your helmet," I consoled her.
"It wasn't my head that hit the ground," she complained.
Inside the church, a rehearsal for that evening's concert was in progress.  We were invited to look around – and even stay for coffee – but instead we went outside to look at the churchyard where eighteenth and nineteenth-century gravestones tell intriguing stories such as the parents who buried all their children stories and the two male "beloved friends" who were interred together.
Leaving the village we turned right at Dedham Hall and cycled past potato fields lined with brilliant red poppies. We climbed up Jupes Hill to Stour House – our first test of the gears on these bikes – and then zoomed downhill under the railway bridge and though puddles and up Mill Hill. Turning left on to the A137 Harwich Road, we skirted the outskirts of Lawford where parents and children were heading towards the school fete.
As we left the spawl of Lawford, we passed the Victorian neo-Gothic church next to Mistley Place Park (once the home of eighteenth-century entrepreneur, Richard Rigby and now an animal refuge). At the T-junction above we came to  Mistley Towers, the remnants of a stately neoclassical church. Richard Rigby commissioned this from the great Robert Adams so he'd have something lovely to look at from his windows. An English Heritage signboard showed how remarkable it must have looked in its heyday.  Unfortunately the old church was demolished when that new one was built, leaving just the twin steeples. How very destructive the Victorians could be!
Parking our bikes, we borrowed the key to the towers from the Mistley Thorn pub and squeezed inside the tower bases as a caretaker went about his business mowing the lawn between them. The Ten Commandments are written up in huge letters inside the western tower and there were old  prints showing how this remarkable building once looked. Mistley was Richard Rigby's project to create a spa town on the River Stour. This church and the assembly rooms were designed for him by Adams. Little else of that grand project came to fruition.
We walked back to look at the quayside, passing  Adams' assembly rooms. An ornate pond stands outside with a painted swan in the middle and water flowing from its mouth. Down at the quayside – after passing under a FREE THE QUAY sign – we saw real swans, a whole flock of them congregated on the Stour. Currently the quayside, which up until the twentieth century was busy with international trade, is fenced off but locals are keen to regain access. We also browsed our way through the craft centre at Mistley Quay Workshops which now contains a cafe and studios for the unusual pairing of a jeweller and a harpsichord maker.
Then it was across the road to Mistley Thorn where we returned the key from the Towers and had a light seafood lunch and some excellent Wine of the Day as well as and a chat with Sherri Singleton, the chef and owner. Sherri had just returned from judging the cake competition at the Lawford fete and warned us that the road to Harwich would take us up a steep hill next – and indeed she was right.
At the top we turned right at Home Farm and cycled towards Bradfield. It was beginning to spot with rain now. Eventually we wanted to get to Wrabness but we didn't turn left to cycle directly to it as the route we'd been  given by Gordon advised us to turn right and head south and then turn back towards the river. However we missed the turning northeast and ended up on A120 itself following signs to Harwich. This is not to be recommended. While most cars politely zoomed past, a skinhead yelled something as he and his friend accelerated past us. I think they were hoping we'd overbalance in surprise.
So we turned off at Wix and went under the A120 to regain the route to Wrabness. On our way north we encountered serious cyclists coming the other way on the annual Harwich Sprint Triathlon. "You're going the wrong way!" I shouted to them and although one laughed, Kate told me off for confusing the rest. Juggling  map and GPS we found the correct turning to Wrabness and headed towards its station. Here we found an unmarked lane which I had been told led in the direction of "Julie's House". This oddball dwelling was designed by Grayson Perry. It's more colourful than a real house, in fact it looks like it's part of an illustration to some fairytale. As we approached, we could see its green wall tiles depicting a naked woman with the name Julie written underneath. Other pieces of iconography on the exterior included a safety pin, an audio cassette case, a wheel with spiral spokes, and three scimitars (which my wise wife informed me is the symbol of Wrabness).
After admiring the exterior and speculating on its interior with two locals who were out walking their dog, we cycled over the next railway bridge to look at the bell cage of All Saints Church. The church itself dates from around 1100AD but in the seventeenth century its bell tower collapsed and the bell was moved "temporarily" to a wooden bell cage in the church yard. You can still see it there today.
While my wife took some photos I gazed across the river to the Royal Hospital School, Holbrook. It's a beautiful 1930s buildings that echoes the Queen Anne style. This boarding school was founded in 1712 in Greenwich, but moved to Suffolk in 1933.
Keen to get to Harwich now and aware of some dark clouds behind us, we cycled at speed to Ramsey, down our first real hill and up the other side of the valley, crossing the A120. My water bottle shot off on one corner and was never seen again. At the top of the hill opposite we paused, but only briefly, to look at St Michael's Church as we entered Dovercourt.  From here a long spine of suburban buildings runs all the way to Harwich along the B1352. It's not an inspiring road, although I liked the church with the banner that read "Jesus Loves Harwich". It encourages you to share his opinion.
At Harwich Green we turned right following the national cycle route and saw enormous container ships berthed on the river Stour down below in Felixstowe. As we got closer to the old port we passed the two Victorian lighthouses (the High and the Low) and a sign that showed we were at the end of the Essex Way. We cycled into town past the Alma Arms pub (named after a battle in the Crimean War) and the house of the master of the Mayflower, then turned along the quayside towards The Pier Hotel. Just as we pulled up by Ha'Penny Pier we met Gordon Hardy who had just dropped our bags off.
We were given a room on the ground floor of the old Angel pub, the Pier Hotel's annex. Here we ran a hot, deep bath and I fetched us glasses of ice from the bar so we could have gin and tonics while we soaked.
I was keen to see the new-look Pier Hotel with its extended balcony where it is now possible to sit out and eat so I dressed first and came out to look around while Kate was still changing. It had turned suddenly into a  sunny evening and I sat on the quayside watching the ships as I waited for her.
The Pier was one of the hotels that revived Harwich, an old naval dockyard, in the nineteenth century. In 1854 the Great Eastern Railway arrived in Harwich and suddenly it was possible to get on a train at  London's Liverpool Street Station and within 14 hours be in Rotterdam or Zeebrugge thanks to a fleet of ferries run by the same railway company. For those who didn't manage the train/ferry connection immediately two hotels quickly sprang up. The first was the Pier, which was built in Venetian style on the site of a quayside brewery in 1860, and the second the Great Eastern Hotel,  which opened in 1864 and was always considered far too big for the town.
The Great Eastern is still there, an imposing yellow brick building covered in Victorian statuary facing the quay, but it's now converted into flats after a brief spell as Harwich's town hall. By contrast the Pier next door is still a hotel, and a quite charming one at that.
It takes its name from Ha'Penny Pier, which is one of those sweet little Victorian jetties where locals would promenade and go line-fishing. Both activities still take place today, but you no longer have to pay a ha'penny (£0.002) to gain access. Tomorrow we'd be using it to cross into Suffolk.
When Kate joined me we were taken to our table on the new first floor restaurant. We could have sat on the balcony but the weather was deemed uncertain. The Pier was very popular that night but we had a good table facing the estuary and a fine seafood meal. I really enjoyed my lobster thermidor but as soon as the meal was over we headed for bed.
On Sunday morning we were both stiff and wondering how we were going to cope with a longer stretch of cycling today.
After breakfast we eased ourselves in gently, walking around Harwich, looking at where a new Mayflower is being built and passing by trees in fancy knitted sleeves.  Then I showed Kate the Electric Cinema, one of the oldest in the UK with two doors one for "Shilling" ticket holders and one for "Sixpence" tickets (and I discovered that my American wife did not know how much a shilling was!) Soon it was time to head for the ferry so we packed our suitcases for Gordon to collect, loaded up the bikes and went to say goodbye to Chris, the new manager of The Pier.  He explained to me about how the new balcony railings were built to match the old Victorian ones but all the time Kate was keeping an eye out for the the ferry across the Stour to Felixstowe.
Suddenly we saw it, a little yellow boat, dodging a mighty container ship that was heading up river. Down on the jetty we handed over our bikes (without panniers as requested) to the conductor and the pilot helped her secure them. The boat was laden with families and even a pram as we set off to Suffolk. The journey across the Stour was quite choppy and a photographer with a very expensive lens got sprayed at one point. I got disproportionately excited about the size of the  "China Shipping Line" container ship ahead of us: it was the size of a small city. And I watched with fascination how quickly the Maersk ship was being unloaded by a gantry crane. It took less than a minute to engage a container, lift it clear of the ship and deposit on the quayside.
In Felixstowe we disembarked up a pebbly beach, which was challenging with the bikes. I said to the couple with the pram that it was like the D-Day landings all over again.
From here we cycled round Landguard Fort which was open and could have been interesting to visit– this was the site of the last opposed invasion of Britain in 1667, during the Second Anglo-Dutch War – but we had a long way to go to lunch.  So we cycled along the front at Felixstowe. It was a warm day now and we paused by Mannings Amusements, an old Art Deco building trimmed with Miami-style pink and turquoise, to stuff jackets and jumpers into the panniers. I tried to remember where I had stayed with my parents as a gloomy teenager who only wanted to watch tanks being loaded on to military transports at the docks but that memory is lost.
But it was definitely in Felixstowehere that I first saw Martello Towers. My father explained to me that these impregnable little fortresses were built in case Napoleon ever invaded. One is now the coastguard's watch tower.
The further north we went the more affluent Felixstowe became and up on a ridge overlooking the sea we stopped to photograph Harvest House, which had opened as the Felix Hotel in 1903 and then was taken over by Great Eastern Railways to be their premiere hotel in 1920. It's a huge Tudor brick structure with lovely lawns. My wife and I argued about whether or not it was ersatz ( I liked it, she did not ).
We free-wheeled back down to the coast road and cycled alongside yet more Martello towers that dotted Felixstowe Ferry Golf Club.  Instead of following Gordon's map, we now cycled as far as the ferry itself and then decided to go up the River Deben on the dyke that keeps the much lower land to the west of the river dry.
We made slow progress cycling on the grassy footpath but took time outto photograph sailboats and some picturesque hulks. By time we reached Falkenham Marshes we realised we were never going to make lunch so we turned back inland and followed a marked footpath across fields and over narrow wooden bridges. Footpath it might have been but the going was even slower until we got to Sheepgate Lane. How wonderful it was to be on a paved road again!
We made good time through villages like Kirton and Newbourne to Waldringfield despite lots of hills but at least there were as many downs as ups.
Coming into Waldringfield Heath we turned right down to the quayside and the Maybush Inn, which Chris the manager at The Pier had recommended. It was now 2pm and we were extremely ready for lunch.
The pub was charmingly located right on the river and the beer and food were just what we needed. We sat outside and gazed at the boats and enjoyed the enthusiasm of the holidaymakers. When it was time to leave we were going to walk our bikes back up the hill but, after our one hour rest, it didn't seem half as steep as it had on the way down. A middle-aged woman driving past me shouted "You're going to get yourself killed, mate!"
"Why is that?" I asked her.
"You're all over the place!"
Clearly she was not aware that when starting off up a hill you may need to tack left or right until you build up a momentum. I do wish drivers wouldn't shout at cyclists. We don't shout at them.
At the top of the hill we turned right to head to Kesgrave. At Martlesham we climbed up Beacon Hill, crossed the A12 and took a last left turn up a tree-lined lane.  And there suddenly was Milsoms Kesgrave Hall at last. We photographed ourselves by the sign and then free-wheeled down to where its broad green lawns were full of families and children playing ball. Everyone seemed to be dressed in white this afternoon to match the exterior of the hotel. We felt very scruffy in comparison.
Built as a gentleman's residence in 1812, Kesgrave was home to several schools before finally becoming a hotel under the guidance of entrepreneur Gerald Milsom. Its grounds are considerable and its rooms spacious. At weekends the atmosphere is of a house party with children running round, dogs sleeping contentedly and parents growing mellow over a bottle of something well-chilled.
We were shown to our room (No21) by Andrew on reception and introduced to Josh Varden the barman on the way. Josh and I had corresponded about my martini hobby in the past though I could tell he didn't recognise me in my high-viz yellow jacket and muddy boots. We agreed to compare notes properly when I'd changed.
Sadly our bags had not yet arrived in Room 21 (Gordon was still at his son's birthday party) so we had baths and slept happily in our towelling robes until they turned up. We then dressed for dinner and went and had cocktails in the drawing room perched on the distressed leather sofas (Like much of the hotel the drawing room features Stars and Stripes and Union Jack decor to commemorate the two air forces who were billeted at Kesgrave during WWII).  Josh made me an Elephant Gin Martini – his new favourite – and Kate had a champagne cocktail then we went into supper which was massive. We were offered "pre-starters" of dressed crab and ham hock which we ate with G&Ts and then we had real starters (tiger prawns for me and peking duck for Kate). My main was the rib-eye and Kate's was halibut and vintage carrots. We demolished several desserts as well. After all this unaccustomed exercise we were so hungry.
When we got back to our room we rapidly fell asleep, feeling very tired, very full but very proud of ourselves too.
We woke to heavy rain the next morning and as I made coffee for Kate in our room I reflected that we'd been extremely lucky with the weather. By 9am we had our bags in reception and Gordon arrived soon after to take us back to Milsoms to pick up our car. We had a lot to tell him about what went right and what went wrong but mostly we were thankful for him to making this all possible. Next year we may go even further afield. We have proved to ourselves that we can cycle between hotels and eat and drink a lot and still feel great at the end of it.  The only problem was we'd actually put on weight…
By Adrian Mourby
Photos by Kate Tadman-Mourby