Reopening announcement
Saturday 4th July will be our Independence Day!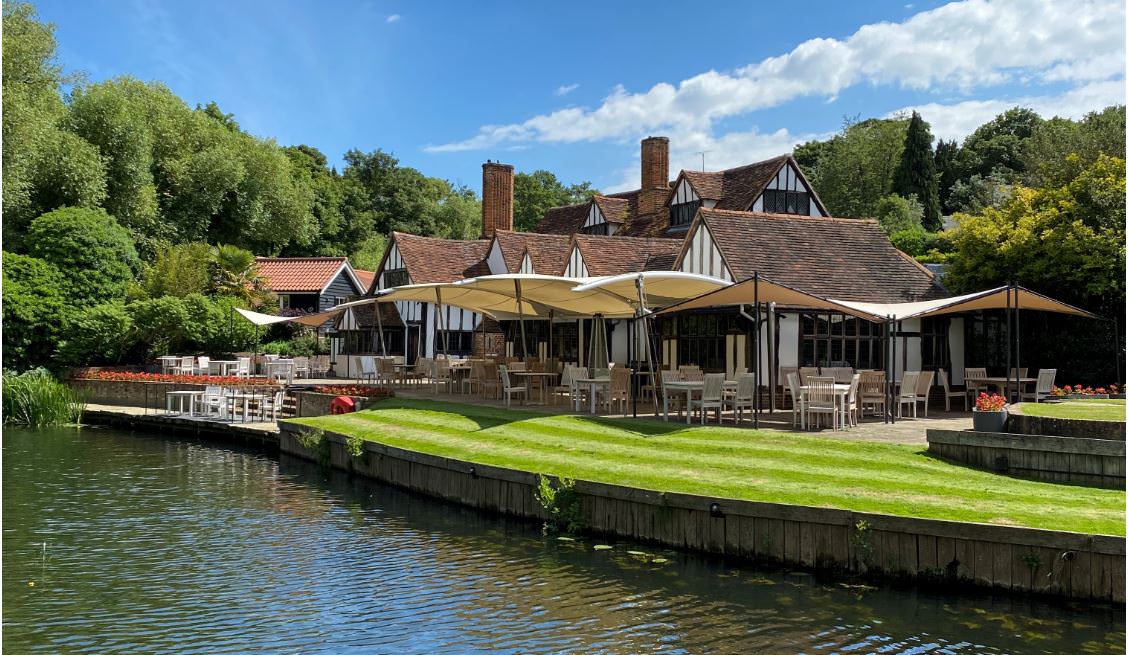 Le Talbooth
We are hoping that the incredibly good weather during our enforced period of inactivity continues in July and August as dining outside at Le Talbooth is always a special pleasure but never more so than now. The gardens are looking as beautiful as ever: the grass is a lush green, the red begonias are in full bloom and our resident swans recently had six cygnets – as always, a truly picturesque scene which more of our guests are now able to enjoy thanks to the newly extended covered seating on the terrace.
I'm sure you have all been enjoying your home cooking and I've been impressed with the number of you using the Milsom cook book and sending us messages and pictures. But now is the time to enjoy lunch or dinner cooked by the professionals and we're really looking forward to seeing you and making the visit a special occasion.
We are taking bookings at Le Talbooth. Give us a call on 01206 323150
We hope there will be minimal changes but we won't be doing the Sunday evening BBQs at Le Talbooth. Summer Sundays in Dedham wouldn't be the same without the clink of glasses drifting down the river from Le Talbooth, so we'll be extending last orders on a Sunday to 3.30pm. Finally, in terms of opening times, we have extended the daily lunch service by half an hour (12 noon to 2.30pm) and reduced dinner by half an hour (6.30pm to 9.00pm). Le Talbooth will also be closed on Mondays for the next few months.
Milsoms Dedham and Milsoms Kesgrave Hall
At last, it's going to be business as usual at Milsoms in Dedham and Milsoms Kesgrave Hall, with the added benefit of additional covered outside seating at both properties.
We've never bought into bookings (we like the 'pre-match' thrill of an empty book on a Friday night), so we still won't be taking bookings, but will have a member of staff at the end of the drive to manage the flow of customers into the restaurant.
Milsoms in Dedham and Milsoms Kesgrave Hall will still be open seven days a week with all-day dining as usual but we're going to move our last orders forward slightly to 9.00pm Monday to Saturday and 8.00pm on Sunday nights. We're keen to be able to serve as many of our customers as possible during this time, so are going to be turning tables two hourly – that's not to say we're going to turf you out if you exceed that, but if you could be mindful of other customers waiting, that would be very much appreciated. The joy of both restaurants has always been the spontaneity, informality and lack of rules, that won't change and we will try and serve as many of you as possible.
If you're anything like us, the lockdown diet has become fairly repetitive (unless you're Stas, for those who follow him on Instagram), so you'll be glad to hear that all our classics will be back on the menu. We may need to tweak things slightly from time to time, but we're doing our best to include all your favourites.
Our hotels at Milsoms and Kesgrave Hall will be operating as normal (taking into account our updated measures for housekeeping and hygiene). We'd thoroughly recommend a stay in one of our rooms – all with great walks and outdoor pursuits (cycling, canoeing and paddle boarding) on the doorstep.
For those who have been looking forward to the opening of the Spa at Milsoms Kesgrave Hall; no one is more excited than us to open the doors. We are biased, but it is looking truly spectacular, so please bear with us for a little longer as we wait for government advice on spa re-opening. Rest assured; you'll be the first to know as soon as we get the green light! The same applies to the Treatment Rooms at Maison Talbooth.
PS: Do come suitably dressed as we envisage that most people will want to sit outside – dining inside is still possible of course.
Maison Talbooth and The Pier at Harwich
News on Maison Talbooth and The Pier will follow soon.